Lori's further adventures in gluten-free baking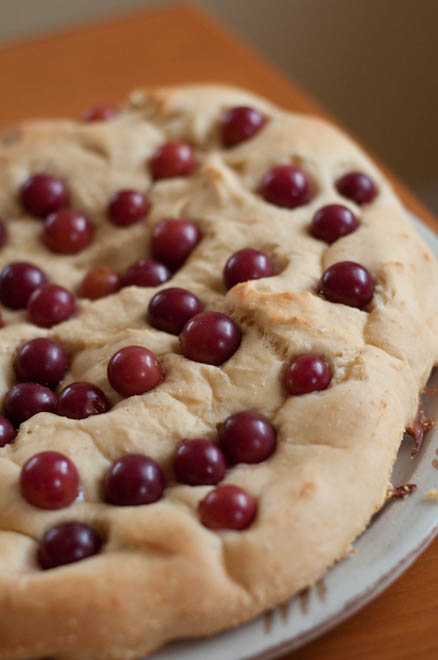 I've baked some stuff at this point. Corn muffins. Blueberry-banana muffins. The pie with chickpeas that eliminates the flour issue altogether. But I've relied on mixes too, for things like my pancakes this morning (pumped up with chocolate chips and almonds) and the one pizza crust I've attempted so far. I just get overwhelmed by the flour. So. Much. Flour.
When I saw this recipe and I just had to make it. But then I saw the flour mix they suggested. Millet flour. Sorghum flour. Tapioca starch. I don't have any those, if you can believe it, because I have about nine different flours/starches taking up LOTS OF ROOM in my refrigerator. Just not those flours.
I was planning a trip to Meijer today so I thought I'd check for them. But, nope, nothing. I've determined that I either have to go to the health food store or shop online for a lot of this stuff. But still…where the heck am I going to put it anyway?
I was desperate, though. I wanted focaccia, damnit! Focaccia with red grapes nestled on top. So I thumbed my nose at the suggestion (sorry, Krumville Bake Shop) and grabbed my Bob's Red Mill GF flour instead. Although this may not seem so rebellious, the flours in this mix are not the same flours as in the other mix. So I was throwing caution to the wind. Honestly I was!
My risk paid off! (The only thing I would have done differently is left it in to brown a bit more.) Otherwise, I can say that I'm very happy with my focaccia. Yes, I am. I'm interested to know how much different it would taste with the other flour mix and I may try that in the future. Still, this one was just dandy.